IC S*Bonnea's Kotten
NFO e09
Född 11 mars 2002 / Born Mars 11, 2002.
Stamtavla
Han är en helmysig kille. Snäll, nyfiken, gosig och... ja listan kan göras lång.
Vi är mycket nöjda med vår avelshane! Både som kompis och ur avelssynpunkt
är han mer än vi önskat oss! Tack Eva!
Kotten is a lovely creme and white Norwegian Forest Cat.
He is a nice and a lovely friend.
Thank you Eva!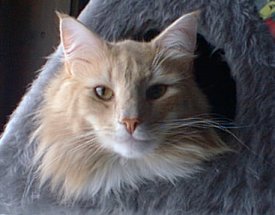 Kotten är pappa till två fina kullar.
Mamma till dem är Ida.

Kotten is the father of two beautifully litters. The mother is Ida.
Kotten blev Internationell Champion i Orkanger i Norge 2 augusti 2003!
Kotten became International Champion in Orkanger in Norway 2 of august.
+
Den 8 juni blev Kotten Champion i Skellefteå!
Kotten became Champion in Skellefteå June 8!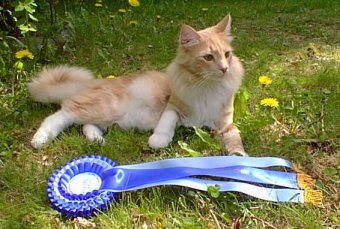 Joanna som äger Kotten berättar:
"Här är min mysiga buskille, som ligger i gräset och njuter av sommaren
och sin Champion kokard!
Han älskar att vara ute i solgasset och helst i stugan där han får springa fritt!
Annars så är han med bästisen Roddy, och jagar ödlor i gräset."

Joanna, the owner of Kotten, tell us:
" Here is my nice and cosy rascal. He lays in the grass and enjoy
the summer and his prize! He loves to be out in the sun.
Most of all he loves to be in the summer house where he is able to run as fast as he wish.
He also likes to hunt lizards together with his best friend Roddy."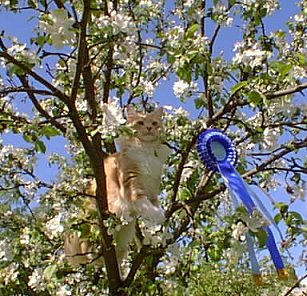 Foto / Photo: Joanna Jonsson

"Här står jag, Kotten den stilige, med min vackra Champion kokard!
Gosiga Katt-Kramar från Kotten =ö3 "
"Here I am, Kotten the handsome, with my beautifull Champion cockade.
Cat hugs from Kotten =ö3 "
Kotten blev BIV både den 7 och den 8 juni 2003
på Solkattens utställning i Skellefteå !
Här ses han med sin ägare Joanna och
domaren Anne Köhn från Danmark.
Kotten became BIV both the 7:th and the 8:th of June, 2003
at Solkattens exhibition in Skellefteå!
Here you can see him together with his owner Joanna
and the judge Anne Köhn from Denmark.